Southern Crete: Ag. Galini to Preveli
< Trahulas to Kommos | Plakias district >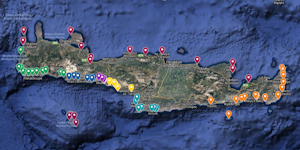 ↻ Clockwise: East to West - the gold spots on the map above
Agia Galini (Αγια Γαληνη)
Captain's rating: 30%
Now a busy resort struggling to retain its charm against the weight of tourism. The main beach is of coarse sand, fronted by tavernas and often crowded. The naturist beach used to be reached by fording the river at the end of the main beach; however a bridge has now been built with the result that the sandy beach is now entirely textile and naturists are restricted to the rocky area below the quarry road. This consists of a number of small stony coves: it is very long but rocky both on shore and in the sea. As it might be offensive to bare all 20 yards from a textile party, it is necessary to walk until you find an unoccupied or already naturist cove. Most coves have only enough sand for one or two towels. When the waves are high, descent into the sea may be crab-wise. This is very much a second-class beach and although well used by nudists cannot be recommended.
A much nicer beach - though one where naturism is forbidden by large signs - is at Aghios Georgios: a pleasant (though quite energetic) walk to the north (follow the rocks with red dots painted on them). There is an unusual taverna overlooking this beach; well worth a visit.
A correspondent who visited in 1994 reports that they had to pay to park in the central town square by the harbour, for the first time ever! Not good news if it demonstrates how commercialised the place is getting. By June 2015 the town is so busy that it's difficult to see any chance of getting an overall tan hereabouts. In September 2018 same situation from main beach, but didn't have to pay to park.
August 2020: At the end of the beach starts a narrow strip of pebbles, not easy to lay on. Okay for a nude swim when you are staying in Agia Galini, not a real nudist beach. No shade, no coves.
---
Agios Pavlos (Αγιος Παυλος)
Reached from a side road off the Spili to Agios Galini main road. The side road passes through the villages of Ano and Kato Saktouria and is now tarmac all the way. The nudist beach is over a headland to the west of the main beach. There are two bays that you can get down to; they are separated by a big rock.
Warning: the sand goes all the way up the cliffs which you sink into whilst climbing down - your feet can get burnt if you are just wearing sandals or less (some - er - Barefooters recommend wearing socks). Then there is a long almost deserted beach under the cliff. It is also possible to get to Agios Pavlos by the daily boat from Aghia Galini to Preveli which stops here on the way (on eastern beach). This is a very attractive sandy nudist beach with great opportunities for walking nude on the long beach to the west.
Western beach
A report from summer 1999 confirms this beach remains uncrowded and primarily naturist although the sand hills do make both outward and return walks something of a scramble; definitely not for the unfit! The Captain visited in September 1999 (my, was it really so long ago?) and confirms this assessment. Agios Pavlos is a bit off the beaten track but is worth a visit. Afterwards enjoy a drink at Mama Eva's taverna overlooking the main (textile) beach.
One reporter found the entry to the beach by following a rocky sand way off the main road – to the west - just before Agios Pavlos. Turn to the right 300m before Agios Pavlos (Lat=35.105076N Lon=24.564035E) to the small unpaved road. Drive 200m and it will lead you right to the headland above the beach. You will just have to step down to the beach (Lat=35.104530N Lon=24.560108E). A small rock on the side indicates 'Long Beach'. After leaving the car, the descent to the beach (either entirely via the sand dunes OR via a small path along the cliff) is quite dangerous! (see picture)
However, it is worth the effort and it keeps textiles away. The beach has a beautiful sea view! My contributor thinks it is definitely something to recommend and rates it 90%.
updates
August: The first part has shade but is mixed, you can walk a little for the full nudist part and make a long nude walk when you want.
Very hard to climb back on the sand dunes, the sand is very hot in the afternoon, even with sandals.
Eastern beach
By September 2005, the sandy cliffs had become less of a problem: there are steps cut into the cliff up from the main beach (some remarkable coloured rock formations at the top!), and a sort of boardwalk takes the strain out of most of the descent to the first of the bays the other side. The second is still quite hard to reach, however. A hedge has grown up in front of Mama Eva's taverna, blocking the view altogether; but there's quite a reasonable cafe right on the main beach.
In June 2005 the eastern beach was 50% textiles 50% nude. The western one can easily be reached by first going on the rock in the middle and then following the stepped path signed by paint down the rock. It was almost deserted apart from 3 nude couples. My reporters had a great day at this beach.
In June 2010 the beach was 100% textile.
In September 2018 the eastern beach was 90% nude over a couple of visits. Probably depends on who is there first! This has a lovely 'cove' feeling. The western beach was sparsely populated by nudists with occasional textile.
August 2020: Easy accessible and visible from above, maybe that is why there are only textiles
---
Triopetra (Τριοπετρα)
From the Spili to Agia Marina road, turn right through Akoumia. After about 10km, with beautiful breathtaking views to Libyan sea, mountains and Paximadia Island, you reach the sea. You arrive at the eastern end of the beach near the Cantina and clothed area. The 3 rocks of Triopetra are to your left. The whole beach must be 1200 metres or so. Turn west and there is initially a dirt track then a concrete road parallel with the beach for about a kilometre, then the road carries on to another bay.
21.06.2011: This road has asphalt now.
This beach is sandy, with clean water, no wind, and almost no people: in 3 days our contributors saw only 3 other people, all of them naked, and they rated it the most beautiful beach (of many) they found anywhere on Crete.
They drove back through Ag. Paraskevi and Kerames to Spili, but it's a very steep and rough track indeed as far as Ag. Paraskevi, and they don't recommend this route.
Barefoot reporters who visited in September 2004 followed a dirt track above Ligres (using a jeep) that finally lead around a curve where suddenly a concrete road along the coast started. There was a 2km. long beach with almost no people on it. The 2/3 till the first taverna was 100% nude (only 4 couples). This is a really great beach for nude sunbathing. Only downside: there is always a strong current and waves.
One Barefooter says he can highly recommend Triopetra beach. He discovered it by chance some years ago. Don't be confused by the signs. As you near the coast, keep going straight ahead, don't turn left. You'll see a 'light orange' taverna perched above the beach on your right as you get to the coast called 'Yarkirdns' (great place to stay). Turn right on the beach and go to the far (western) end before you 'get comfortable'. My reporter calls this beach 'paradiso'. It would have to be his all-time favourite.
The owners of two pleasant-looking villas, described as "naturist-friendly", overlooking Tripetra, say they will offer a discount if you mention Captain Barefoot's Naturist Guide. Visit Dimitris and Kadiani here and Nikos and Stefania here.
The Captain has previously warned that there must be long-term concerns for the future of this place, unfortunately. There is apparently talk of building a 1,000-room hotel nearby. Make the most of it while you can. Unfortunately it sounds as if the downturn has already started. The correspondent who called the beach "paradiso" tells me that when he returned in September 2006 he was horrified to see that a sealed road has now been created behind the beach, which runs parallel to the shoreline, and has completely destroyed the privacy that this incredible beach once had. It has ruined what he thought was one of Crete's best beaches! A real shame.
21.06.2011: slow down … it's still a great place and except Sundays (a lot of Greek families with CHD) you still can be nude all day round without anybody caring !!!
Early August 2011: a lot of wind, few people, a beautiful beach with pleasant gravel. 50% naturist, and very comfortable to go nude.
2014: Still no hotel on Triopetra :-) Park in the middle of the beach by the small group of trees, depending on who is there you can walk from car to beach with no need to dress! Camping with camper or caravan is no problem, but can be hard in a tent if the wind gets up. This is still a place where clothing is not necessary - let's hope it stays like this!
Confirmed 2015
May 2016: The sealed road behind the beach goes to Ligres but it's falling into the sea and is not for nervous drivers. No new apartment near the beach but a few more small developments 1km inland in the hills. We came here about 12 times and always went nude, enjoying walks along the beach with no problem. Some days we had 400 metres to ourselves. A few more textiles at weekends but generally 70% nude and nobody cares. If it gets windy the sea can be dangerously rough, especially when trying to enter over the slabs of rock. When calm it's wonderful and highly recommended.
September 2018: The area is still undeveloped. A number of nude couples present over several visits. The road is a single-track concrete surface with sand over the section round the headland. Not all cars will be safe negotiating the step between concrete and gravel road (about half way down the beach), but easy to park at this point and walk to water.
August 2020: Between Triopetra and Ligres there is a long road parallel to the beach, you can park anywhere and go to the beach, there is so much space, there is no problem being naked.
---
Ligres (Λιγρες)
Ligres beach is accessible by a good road (follow sign from Kerames to "LIGRES" and "Best Beach" - straight ahead at the junction in Kerames). An idyllic part of the coast which cannot long remain undeveloped. Take advantage of it whilst you can.
The Captain took this advice in September 1999. There had clearly been a major bush fire in this area and the road to Ligres passed through burned- out woodland. There is a taverna at the end of the road and also what is described as a "mini-market" - although the Captain understands that this is in the bedroom of the taverna owner!
Walk east along the beach from here. The further you walk, the more nude and deserted it becomes. Pass a large rock at the water's edge and, if you are lucky, you will have miles of deserted beach all to yourselves.
The beach was long, made of sand and small pebbles, and easy to walk on in bare feet. Wonderful swimming (partly rock shelf underfoot, similar to Kommos). We had something like half a mile of beach with one other (nude) couple on it. It is immensely reassuring that deserted yet beautiful places like this can still be found. The Captain returned in September 2003 and 2004 and can confirm that little has changed.
You could walk naked for miles along this beach. The Captain set off exploring to the east as far as the eye could see. The beach curves slightly to the left, and the Captain could see the enormous dune in the distance which appeared to be Ag Pavlos. Blissful.
A report from June 1999 spoke of a taverna open with rooms to rent sign. There were about 6 textiles in front of the taverna, 3 people nude other end of beach. 2nd bay one other couple. Excellent, quiet all day. A later report from summer 1999 confirms plenty of scope for nude sunbathing but with a moderate sea running, swimming would have been ill-advised due to the very strong undertow.
Barefoot reporters who visited in September 2004 (also in June 2005) found some textiles and campers at the entrance to the beach. Also, because of where the sun was, it looked a bit "grey". So they decided to try and drive a little more to the east. We followed a dirt track on the top of the cliffs and had a great view over Ligres. But we could not get back down to the coast. Consequently it would have been better to walk along the beach from Ligres to the east. They saw only a small number of people on the beach, all nude.
A correspondent who visited the beach in the last week of September 2010 found it marvellous. Around the big rocks some 5 couples were present, all naked. However he had trouble finding the beach, hence some better instructions:-
On the road from Spili to Agia Galini, 5 km past Spili turn right at the sign: Ligres beach 19 km. Below it is a road sign with Kerames in greek characters. From here it takes 25 minutes to reach the beach. You will have to drive through Kerames and the next village Agalianos. Then keep on driving downhill till you reach the Ligres beach taverna. However parking space is limited.
Another beach can be found by walking to the west of the taverna at Ligres. There is a small path along the rocky shore. If, after walking about 50m, you see a small waterfall, you are in the right direction. The path involves some "light" climbing, but my contributor thinks that anyone can follow it easily. After about 300m you reach a small bay - about 200m long - that is totally deserted.
From the summer of 2009 there is an easier way to reach this beach; right in front of the 2nd taverna that has opened there are some steps leading to the path. This means that you don't have to climb on the rocks and that you won't pass the small waterfall (which is now accessible with some steps too).
The beach has small pebbles and coarse sand, while some large rocks provide shade. The sea is fine and deepens slowly. The bottom of the sea has fine pebbles near the shore, then some smooth rocks and finally sand. My contributors visited on a weekday in August and the beach was occupied by only two more naked couples.
It is a very quiet place, though sometimes it might be occupied by some free campers (there are signs of free camping near the rocks, but no litter at all). Wearing sandals, my contributors were able to do a long nude walk over the headland to the west that divides this beach from the Kerame beach and wander on that beach too.
And still another beach, according to correspondents from the summer of 2003, by going 200-300m over the rocks to the east of the taverna, when they found about 500m of "empty sand beach, only for us". Sounds good!
recent reports
August: The beach near the taverna is not for nudists, but after the small waterfall you can walk over the beach to Katsouni, a beautiful bay, a few nude people. Continue over the dunes to the west for another beautiful beach, the see on google maps link below refers to it as Agia Fotini.
Agia Fotini (Αγια Φωτεινη)
Again access from the Spili to Ag. Galini Road, this time via the villages of Aktounda, Vatos and others.
To go to Agios Fotini beach turn right at Kerames. Now a good road to taverna and road continues around the headland to private house. Reasonable standard road through very rugged country to a taverna by a very pebbly beach.
You have to climb on rough stones to move around the headland (earlier reports suggested that there was a rough track - if so it seems to have disappeared). There is another building further round the headland. Totally deserted beach, sand and pebbles, enabled a nude swim with no disturbance. Real "end of nowhere" feel about the place.
A report from 1998 says this is still a totally deserted sand and pebble beach. However carry on walking beyond this around the small headland to find first beautiful, sandy beach, some 75 yards wide backed by huge sand dunes and green hillside. The beach is about 100 yards long with clean sand and continues past the next headland with another similar beach backed by 100ft sand dunes (this, the Captain believes, is Ligres beach). We spent the day in the second bay and only saw one other couple. Perfect "away from it all" beach - no facilities, no people, no clothes, no hassle! A report from June 1999 found textile male Greek bathers there albeit on a Sunday.
My correspondents went for a nude walk and rather ambitiously climbed around the rocky cliffs for 200 yards or so to find another enormous sandy beach stretching into the distance inhabited by only 2 naked couples - perfect! With hindsight they think the naked climb over the sharp rocky cliffs was rather foolhardy and would have been more comfortable had we worn clothes (and boots!). Continuing along this beach brings you to a taverna and another mile or more of golden sand.
October 2014: Parked near the house along the track, left turn instead of right which takes you to the taverna. Trekked along the beach - need proper sandals, flip flops were a bit tricky. Spent a day lounging in small cove and swimming. Only saw about 10 other people on the beach …. none of whom saw the need for clothing. Unforgettable day.
---
Drimiskianos (Δρυμισκιανος)
Drimiskianos is a pleasant beach with alternating sand or pebbles; it's also fairly empty and you don't have to walk more than 200m along the beach before picking a spot for nude sunbathing and swimming. It is very empty and over 1 mile long, and its eastern end (away from Palm Beach) seems ripe for naturism now that Preveli Palm Beach itself has been lost.
To get there by car, take the Preveli monastery road. About 4km before the monastery (if you're heading south) cross the car bridge over the Megalopótamos, right next to a lovely 19th century foot bridge, (nearby which there is a new taverna) and follow the hand-made signs for "Palm Beach". Follow this road, which starts at GPS waypoint: N35 10' 22.5" E24 28' 02.6", for 4-5km over the hills. Previous reports suggested that the first half is paved. The Captain can confirm that this is not the case - the first few metres is, that's all. The rest of the road is unpaved and although evidently navigable by ordinary car it will be best with a jeep or 4-WD. Upon reaching the shore you'll see a couple of tavernas offering free parking. Park there (GPS waypoint: N35 09' 13.0" E24 28' 43.4") and walk east, or drive east along the road that follows the beach.
You can also get there from Preveli Beach - there is a path over the cliffs.
A report from October 2001 says Drimiskianos was almost deserted, with the exception of the area next to the parking lot. My contributors walked to the dramatic-looking rocks and dark cliffs. In front of them was a nude couple, and behind them a nice secluded cove, which they enjoyed all by themselves. It is a long walk, but it's worth it.
July 2014: Walked from Palm beach parking along the road, then dropped down onto the beach by a small layby. We only saw 3 couples all day and were able to walk and swim although the sea was a little rough. Far better than Palm beach.
A correspondent reports that in July 2003 this beach was almost completely deserted, although Palm Beach was overcrowded at the same time. Only near the parking lot, there were a few textile visitors, but more east only (even fewer) naturists. A lot of fish in the sea, and there is a large rock in the sea which youngsters were (safely) jumping from.
A report from July 2002 says that the road that follows the beach to the east was blocked by rocks after the first 500 metres. There was another landslide following wet weather in early 2015 but, after digging out, the road was still just passable with an ordinary small car.
August 2020: No nude people. The road following the beach is very close to it, not pleasant for nudists.
---
Preveli (Πρεβελης)
To reach Preveli by car, follow the instructions to Drimiskianos above, park at the tavernas which offer free parking, and walk west along the footpath to Preveli (5 minutes). If you don't want to drive over unpaved roads and don't mind climbing, there is another option: park at the Palm Beach parking lot, about 1.5km below the monastery, and climb down to the beach along a steep but well-marked and busy trail. Allow 15-20 minutes to climb down and 30-45 minutes to climb up.
If you don't have a car, take the tourist boats that leave from Plakias and call at Damnoni.
Alternatively you go by car to the Preveli Monastery and step down on foot to the beach. Previous correspondents told me this takes about 15 minutes down and 30 up. A more recent estimate is 35 minutes down and 45 minutes to an hour up - either my earlier correspondent is really a mountain goat or the latter has become a little too relaxed … however he also says that many people were wearing climbing boots. The Rough Guide notes that the climb is "steep, rocky and surprisingly arduous." An easier way of getting there may be by using one of the tourist boats from Plakias and Damnoni.
Preveli Beach it widely featured on picture postcards and is undoubtedly very scenic, as a beach which comprises a river mouth. Earlier reports indicated a naturist character, with "a lot of anatomy on display". However, Preveli is now totally commercialised with umbrellas and tavernas. The beach is small and covered with sunbeds and umbrellas. Walking further over the headland there is a taverna and car park (at the end of the long unmade track). Even having climbed all the way down my correspondents did not feel in the slightest bit tempted to stay amongst the clothed visitors and did not even swim in the rather cloudy water before climbing back and travelling to one of the much more attractive and accessible beaches. Don't risk your ankles - it's not worth the climb!

Some GPS waypoints (in WGS-84): the Preveli monastery: N35 09' 27.3" E24 27' 25.3", the parking lot: N35 09' 14.5" E24 28' 13.7", Palm Beach itself: N35 09' 09.6" E24 28' 24.1". See also the picture taken from the footpath from the parking lot down to the Palm beach.
Although Preveli is no longer recommended for naturism, one hears you can walk up the gorge through the palm trees and some people sunbathe and swim nude in the pools formed in the stream as it climbs.
Barefoot reporters who visited Preveli in September 2006 did this. They followed the path under the trees to where the river formed some pools. They found a nice hidden place and decided to "open the nude beach". The pool was more than 2 metres deep and the water was clear and a bit colder than the ocean. Apart from occasional passing tourists you could think you are on a lonely island. Really great place, only the walk back to the car is a minus.
Sad news from August 2010: palm forest of Preveli was burned. Please read: Widlfires burned the Palm Forest in Preveli Crete. However it's good to be able to confirm that by 2015 little trace of this remains and the trees are in blooming good health again.
A report indicates that there is now an easy track over the cliff leading East to Drimiskianos.
A correspondent from October 2004 reports a long stretch of mainly sandy beach with a few rocks about 1 km east of Preveli, along a very rough road through the mountains after crossing the river by a ford near a stone bridge [this means it must be Drimiskianos as described in its own section above]. Worth it though, because the beach is about 1 km long, and about 95% nude (until the cool of the evening when clothes became necessary to keep warm). Rated 95%. The same correspondent speaks highly of a nearby beach called Prakais, also about 95% nudist over its 1 km length, with some textiles on only the last 150m or so. I have not been able to identify this beach, and unfortunately he does not give directions to it.
August 2016: Palm forest is green again, there are scars from the fire, but nature healed the wounds… the black stems of some palm trees with green leaves add to the special atmosphere… NO NUDITY at all, neither at the beach, nor in the canyon. Fully crowded beach, busy in the canyon, but the canyon is still worth a walk (take good shoes!)!!!! So beautiful places in the rocks to bath in freshwater… so clean and natural… actually a shame to dip there with textiles, it is so natural a place… nudity feels so right there! But no way… too many textile people around… [but note this is in high season.]
September 2019: We visited the beach in the first week of September. NO nudity on the beach. 100% textile. The beach was very crowded, but it's worth taking a walk in the canyon.