Gavdos Island
< Rodakinon to Marmara | South-western Crete >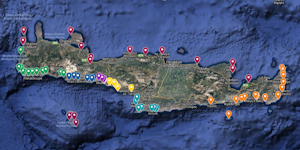 Gavdos is a small island opposite Chora Sfakion. There have been reports of high percentages of nudity on the beaches there for some time, but a contributor has sent some very interesting details of the situation on Gavdos during the summer of 2005, in particular as regards the best known naturist beach, Ag. Ioannis, and a nearby less frequented one, Lavrakas.
Ferries to Gavdos depart from Hora Sfakion, Paleochora, Sougia, Loutro and Plakias and arrive at Karave (Karabe). There are two companies that service this line: Anendyk, which has a ferry that can carry vehicles (see the schedule here) and Gavdos Lines, which has a small fast speed-boat (see the schedule here - in greek).
For more info, contact the companies (Anendyk: +30 28210 95511 & +30 28210 95530 / rg.kydnena|ofni#rg.kydnena|ofni Gavdos Lines: +30 2823042458, +30 6972227354 (mobile) & +30 6942697060 (mobile) / contact ).
It is quite a long passage and ferry services can be easily affected by the weather. There only needs to be a strong breeze and the ferries are cancelled. Also it is advisable to buy, not make a reservation but BUY your ferry ticket a day or better still two days early if you are there in the busy season (August). This Barefooter thought it is best to get your ticket from the booths at the port itself.
This general report on the island in 2020 has been contributed by Alex to the Forum:-
"I spent almost the entire month of August camping on Gavdos. The number of campers in 2020 is somewhat higher than previous years. This due to the Greek authorities closing down two other islands or areas where free camping is permitted. This meant lots of people instead went to Gavdos. Hopefully the other areas will be open next year. The campers were mainly Greeks.
"Gavdos in early/mid August is really overcrowded and a bit ruined. The island this year attracted a lot of people who aren't into the relaxed post-hippie lifestyle that is otherwise common. As for naturism, most beaches are about 70% nudist. On most beaches there isn't any separation or distinct areas. It's just a bunch of people not caring what other people are wearing or not."
(Notes on individual beaches are given under their own headings)
↺ Listed in order anticlockwise starting, as you do, from Karave: plum-coloured spots in sea on map above.
---
Sarakiniko
August 2011: This Barefooter spent 10 days on Gavdos and loved every minute. All the beaches mentioned above are very good but I am surprised nothing has been reported about Sarakiniko. This is the beach between the port and Ag. Ioannis and I think the first stop of the bus from the port. It has several tavernas, some basic accommodation and a good general store. This is a long beach and it was very nice to be able to walk the length of the beach naked. The southern end (?) where most of the tavernas are has wonderful crystal clear shallow water that sloped away very gently. Fine sand and even some small shells. Felt like almost all of the people were Greeks and 90% naked. Very relaxed with several families and 50/50 male and female. A large number of people but without feeling crowded at all. Limited shade, freshwater shower, most visitors camp amongst the many trees behind the beach. Some clad visitors and families spread out along the rest of the beach. This Barefooter liked all the beaches on Gavdos but was happy to return to Sarakiniko.
After a 5 day stay in mid-June 2013 I confirm previous comment : Sarakiniko (and virtually all of Gavdos island) is a paradise for nude sunbathers, with a little Robinson Crusoe spirit due to the aleatory schedule of the boat transfer ! A very nice and relaxing place to be nude !
August 2018: Three divisions now there: the left side of the beach is for dressed bathers. The middle of the beach is semi-nude aka all women went topless but very few bathers naked. To the right side facing the sea all bathers were totally nude, mainly greek couples.
Aug 2020: nudist ratio on Sarakiniko was 50%.
---
Ag. Ioannis

This is on the north side of Gavdos, facing Crete. Board the community bus from the tiny port to Ag. Ioannis (roughly once every hour). The bus passes from Sarakiniko beach (see above) and continues on a gravel road until it reaches a taverna/mini-market. This is the campers' sole source of water, food and supplies. Ag Ioannis beach is a further 15 min walk towards the west (keeping the sea to the right).
My contributor rates this as definitely one of the top 3 beaches he has ever visited (including the Caribbean and Red Sea). He is not alone; other reporters have listed it as their favourites. It's about 500 metres long, and quite wide. The water is crystal clear with blue-green hues and it's all sandy at the bottom. If you start walking towards the back of the beach, the first 20 metres are flat sand, then there are sand dunes with cedar trees, then pine trees and rocky cliffs towards the back of the beach. In some ways it reminds him of Elafonissos. There are dozens of old cedars one can use as shade. People on the beach are usually friendly (if you make the first step), but he suggests you keep your money on you - a waist pouch is very useful.
Ag. Ioannis gets crowded during the last week of June until mid-August. People even set up tents in the blazing sun in the middle of the beach. Best time would be before or after that.
Nudism can be as low as 70% during peak period, but is close to 100% at all other times.
July 2015: Quite a lot of people, but not busy, most people lay in the shade under a tree, smoking. Popular with young Greek hippies who camp on the beach, with dreadlocks, clothes from Nepal or India and reggae music.
early September 2018: 100% naturist. Uncrowded.
Mid 2018: To find such a beautiful island with almost 100% fellow naturists was truly a life changing experience. The temperature was very hot, about 32 degrees celsius and the beach was not crowded. The bushes around Agios Ioanis were packed with people camping in the nude. We stumbled across several spots where people sell or trade their handcrafted stuff like necklaces and bracelets for food and groups of people playing music, cooking food and finding shade in the bushes, setting up camp.
The walk from Agios Ioanis to Lavraka following the coastline is highly recommended due to the wonderful views. Caution is to be advised due to the steep slopes and rocky road up and downwards. During the walk you will encounter several small idyllic beaches where at the time was no-one around.
---
Reported by Paris on the forum:
I went for vacations at Gavdos island in August 2019 and I stayed for 2 weeks in Agios Ioannis beach.
The beach was very crowded but quiet, 95% nude, ages mostly 20 to 40. Nationality of people mostly Greek and few German. Very warm and talkative people, both men and women. There were also some families. Great place, fantastic sandy beach, camping free and a perfectly clean sea!
Naked trip - no people with clothes on the entire island :) Great !!
---
Lavrakas
This is to the west of Ag. Ioannis. There are two ways to get there from Ag. Ioannis:
1) Follow the coast. My correspondent's preferred route. It takes about 30 minutes. You have to go waist deep into water at some point, but it's OK if you travel light. You can only take this route when the weather is good.
2) Climb up the rocks at the back of Ag. Ioannis and follow the paths. People on the beach should be able to give directions. Ask someone who goes there often (you can tell by their living quarters). It takes about 30-40 minutes if you don't get lost. My correspondent did, but it was very easy to find his way. It's a small island after all, and Crete is always visible so you know which way is North!
July 2015: the path that follows the coast is very easy! People who were here last year said it was new. It is easy and does not go through water. A bit narrow sometimes. Because it goes from one nudist beach to another it is perfect for a nude walk.
In terms of natural beauty this beach is not as good as Ag. Ioannis, but there are other things to make up for that. It's a flat beach with cedars, but the number of good spots to set up a tent is limited to maybe a dozen. Access to the sea is also somewhat limited, as you have to find a passage between the big rocks. It's great for snorkelling though! The best thing on Lavrakas is the well. A couple who stayed there for some time dug a well about 2 metres deep, which lets you access fresh, chilled, drinkable water! You still have to go 45 minutes to get food from the taverna/minimarket (and another 45 to come back), but if you plan right and cook your own food you can last for a week easily.
In August 2010 a second well had been constructed closer to the sea. This one has an open end, which allows people to easily get fresh water and shower.
My correspondent left Ag. Ioannis when the crowds hit that beach (early August) and went to Lavrakas. Needless to say, it's not affected by the waves of tourists, since access is not easy. However, he met people from Ag. Ioannis who made the trip daily to get fresh water, but that's hardly a problem.
Nudism: everyone swims naked; maybe a few go around the beach with a piece of cloth round their waist.
Aug 2020:- Lavrakas was packed with young people playing loud music. But by the end of August they had left and the atmosphere was again calm and relaxed. So avoid the period of 1-15 august.
---
Pyrgos
If you follow the coast line from Lavrakas further to the West, you will find another small, totally deserted sandy beach. It is a 30 min hike from Ag. Ioannis which can also be done in the nude.
Aug 2020: nude proportion on Pyrgos 95%.
---
Potamos
This may be the most beautiful beach on Gavdos. Huge sandy beach, a few tents (4 in September 2006) under cedar trees, amazing canyons on the back worth exploring. 100% naturist, with no more than 10 people spread in this 500m beach, practically deserted. No facilities at all, of course.
Ιn the canyon there is still some water dripping from the clay cliffs (Potamos means "river", so there must have been a river there in the past) and the campers (that keep coming back for years in this place) have found some very creative ways to collect this water and use it for cooking and showering. We were told the water is not potable.
One reporter reached this beach with two hours of difficult walk from Lavrakas (and Pyrgos), out of any trail. The easiest way to get there is by boat, but there is also a trail beginning from the settlement of Ampelos.
You will see a sign pointing to "Ποταμος" (Potamos). The path begins as a very rough gravel road. Maybe a 4-wheel car can use it but also bear in mind that it is very steep. The gravel road ends at something that looks like a small plateau and at that point it is very easy to miss the path (it has happened to me once); it continues on your left hand side passing through an open wooden gate. Watch out for the small piles of stones that mark the trail. In general it is not a difficult hike. Only towards the end it gets quite narrow and slippery and you are in steep place, thus you should be very careful. Sneakers or climbing shoes are strongly recommended.
early September 2018: 100% naturist. There were no more than 5 people and a tent.
In August 2020 though Potamos was a disappointment. It was only 50% naturist, with far too much waste/garbage lying around. There were quite a few new campers with their own boats and who probably usually camped elsewhere. The atmosphere is changed.
---
Tripiti
Tripiti cape is the most southerly point in Gavdos and is claimed to be the most southerly point of Europe as well. The beach has large pebbles and is definitely not the best one in Gavdos, but it is quiet, as not many people go there, and the setting is wonderful.
There are two ways to get to Tripiti. The first one is to hire a small boat to get you there and arrange to pick you up later. Ask around at the tavernas and you will be given more info about who can take you there and how much it will cost. The second way is to take the community bus and go to Korfos and then continue on the marked path of 4 Km that takes you to the beach. The path goes up and down, but it is not a difficult one. Maybe it is not recommended for small children.
There are absolutely no facilities at the beach (so take plenty of water! Your last chance to do so is at the tavernas in Korfos) but there is a landmark there that you should visit: at the edge of the cape there is a huge chair reading "Southern Point Of Europe" (sic!). From that point you have a magnificent view of the Libyan sea.
July 2015: In Korfos there are two tavernas and rooms and there is a small beach where it is not a problem to be naked, and if you think there are too many textiles you can go to the narrow strip on the north side.
early September 2018: Korfos beach appears 50% naturist.
---
When you walk in the direction of Tripiti you will find a path on the left, about halfway. It leads to a beach called Lakoudi, the path is quite difficult and only indicated by piled stones. But you will find after half an hour a large pebble beach probably for yourself.
---