Southern Crete: Plakias district
< Ag. Galini to Preveli | Rodakinon to Marmara >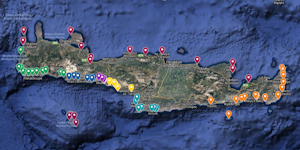 ↻ Clockwise: East to West - the mauve dots on the map
---
Skinaria (Σχοιναρια)
This very scenic beach is reached via a fairly long but satisfactory road from Lefkogia. Skinaria Beach Hotel, set back from the beach, appeared to be abandoned in September 1988. A shame, because it looked as if it was once a very nice hotel and did not overlook the beach. A brand new Taverna (the Libyan Star) is coming to completion overlooking the coarse-sand beach, and a diving school had set up its headquarters in the basement.
The Captain called at the taverna for a beer and to have a look at the beach in September 1998. Naturism was being practised on the left hand side (looking towards the sea) despite the fact that the (clothed) diving school was in full session on the right hand side.
The turning to the beach is well signposted, from both directions, in the middle of Lefkogia village.
Fortunately, some correspondents also visited in 1998 and stayed for a bit longer than I did. This is their account: "Beautiful Skinaria Beach overlooked by the Libyan Star taverna (proprietor plays surprisingly good blues tapes at lunch time!). While the right hand end of the beach is heavily used by the diving school from Rethymnon, the left hand part remains a nudist enclave. Wonderful for snorkelling with plenty of fish. Shelving shingle beach - good swimming and beautiful setting. The diving school tend to remain at "their" end of the beach and were in no way intrusive. It was however disconcerting to be snorkelling and see two or three divers pass below you! The taverna served very welcome cold drinks and good food and was set sufficiently far back from the beach to not intrude on the quiet ambience of the beach. Our hosts told us that The Skinaria Beach Hotel (a few hundred yards back up the road) was apparently abandoned suddenly - and drinks were left on the tables and behind the bar!"
Not everyone feels comfortable stripping off here, though, particularly because of the taverna and the diving school. Others say the atmosphere in the naturist section was very relaxed, good snorkelling, and that the beach ought to be highly recommended.
It's a truly magical spot as the sun goes down behind the multiple folds of mountains into the sea, however!
The road to the beach starts in Lefkogia at GPS waypoint N35 10' 41.6" E24 26' 34.5". The beach itself is at N35 09' 59.5" E24 25' 20.7".
reports since 1998
September (beginning): Schinaria beach is not naturist. There are prohibition signs. In the eastern part of the beach I saw only a couple who, hidden by the lowered umbrella, tried to get naked.
Amoudi (Αμμουδιου)
Marked by yellow patch on the map which corresponds to Amoudi and Damnoni but is unlabelled. It is reached by a road (signpost Amoudi Beach Hotel) between Lefkogia and Damnoni. The hotel is set back from the beach. During September 1998 naturists were present early in the morning but by lunchtime the beach was mostly textile. An earlier report from 1998 confirmed that nudism was sometimes practised on Amoudi. Some days it was completely textile, on other days there were about 50% naturists or less. The nudists generally gather at the left-hand-side (eastern side) of the beach. A visit in September 1999 confirms this impression. The water is not as clear here as in the Mikro Amoudi coves.
This road to the beach starts at GPS waypoint N35 10' 37.8" E24 26' 06.3". The Amoudi beach itself is at N35 10' 16.8" E24 25' 14.8".
Some reports suggest that the Amoudi beach had become completely textile. The Captain was last there (passing through on the way to Mikro Amoudi) in September 2004 and noted that the naturist pattern (or lack of it) had not changed.
reports since 2004
July: No nude people. No problem: Micro Amoudi is next to it.
October: A couple of stoic nudists lurking behind rocks on the left hand side. Late in afternoon the lady next to us obviously got bored, got her bikini off and went swimming. After a few minutes I whipped my shorts off and went in the sea. This then prompted 2 other people to shed their togs and join in this nudist rebellion! Should have gone to Micro Amoudi but it was fun!
Mikro Amoudi / Amoudaki (Αμμουδακι)
See Mikro Amoudi on Google Maps
Formerly the best nude beach on Southern Crete - is over and out. Now with a big parking-lot at the back and only very few naturists, it is extremely crowded. You're laying on the beach shoulder by shoulder. It is 20 percent nude. [This report from September 2014 is left in this prominent position as a pro tempore warning. It is only one report, so please confirm or refute.]
A correspondent on the Barefoot Forum informs us that these beaches, which we have always known as the larger and smaller coves of Micro Amoudi, are properly known as Amoudaki and Micro Amoudaki respectively. The two coves sit between Damnoni and Amoudi beaches, easily reachable from either.
By car they are best reached from Amoudi. A short path leads from Amoudi (park at the car park behind Amoudi beach and walk up the hill to the right facing the sea. After a few metres you come to an inaccessible rocky cove; a few metres more brings you to the smaller of the two coves; and yet a few metres further to the larger cove. The total distance is not more than 200 metres from the car park. From Damnoni, it is about 300 metres. The tracks are not sensibly navigable by car, however. From Damnoni the path to the east is now navigable by car but easier on foot. It is well worth the effort.
Larger cove (Amoudaki itself)
Captain's rating: 85%
The more westerly of the two beaches is a superb cove of golden sand (see picture) with hardly a stitch of clothing in sight, despite the advent of beach umbrellas and, unbelievably but very usefully, a free cold shower. Sunbeds and parasols were available at 3 Euros a day each. It is a popular beach, though not large, and gets crowded in high season. The Captain visited this beach for the fourth time and confirms that it is usually 99% nude. During 1999, however, the number of umbrellas and sunbeds crammed into what was a Cretan Eden has increased, leaving little room for those of us who prefer to use beach mats and our own parasol on a short visit. This made the beach feel crowded even in late September/early October. When the Captain last visited (September 2006) there seemed to be so little room left that he felt the beach was in danger of being spoiled.
These considerations reduce my rating for the beach from 95% a few years ago to 85%.
Some contributors note a very attractive relaxed atmosphere. It is also visited by all categories of people. Young, middle-aged and old people, different nationalities. There are as many women as men. This is a place where even young single women feel comfortable to go naked.
What better recommendation could there be?
Contributors from 2004 and 2005 confirm all the above; several enjoyed being among a larger group of naturists, rather than having to hide away behind rocks, or seek out unfrequented corners. Another comments that, after Ibiza, it certainly did not feel in the least crowded even at the height of summer! Refreshments are now sometimes available from the girl who looks after the umbrellas. She also often even finds time to take little pottery ash-trays to sunbathers who are smoking!
Barefoot reporters who were there in July 2007 confirmed earlier reports. This fabulous little beach hosts a very mixed crowd of families, couples and singles of both sexes and all ages, different nationalities, all totally relaxed and comfortable with each other. 80%+ nude, with many mixed textile/nude groups and families. Sunbeds and umbrellas are getting a trifle expensive at 9 euros a set (price went up 2006). Refreshments from the sunbed lady's cantina still reasonably priced. In the sea, the swell can be a problem and can spring up even on calm days, hence the less than 100% rating - watch the kids.
The doughnut man from Plakias Bay has been a welcome visitor - in 2007 he was arriving around 5pm.
One correspondent found strong winds and reckoned it was only about 50% nude that day, but all other estimates are of 90%+ nudity, whatever the season, day or time; ratings, where given, are from 90 to 100 points.
In 2009 a "smartening-up" programme got under way. Oh dear. Instead of the perfectly easy dirt footpath down to the beach, there are now neat suburban-style crazy-paved steps, lined with new palm trees! The beach itself hasn't physically changed of course, though all the sunbeds and umbrellas have been replaced with new ones - and they cost €7 each to hire. It felt, to this long-time visitor, as if the atmosphere had certainly changed here, and I wouldn't be at all surprised to see the proportion of textile visitors increasing, now that it's all more "civilised".
Another long-time semi-regular visitor did not notice any negative effects from the upgrades neither during the 2009 or early 2010 season. The new umbrellas are however not as nice as the old straw type that blended more into the natural environment.
reports since 2010
August: Greek people have their holiday, and it was a Sunday, so the small beach was crowded with about 150 people. Still there were 6 nudists on the right end. Not nice when you don't want to show off.
Smaller cove (Paralia Kleisidi)
Captain's rating: 98%
The more easterly Mikro Amoudi beach is a tiny cove. Reaching it involves climbing down a short but almost vertical cliff - be careful, we bear the scars; it is certainly not easy and stout footwear is essential. This cove is surrounded by steep cliffs on three sides. A rocky pinnacle stands out of the water. Everyone in this little cove was naked (September 1997). As in many parts of Greece the water was beautifully clear. Swimming around the pinnacle was utter bliss. On revisiting this beach this year I found myself thinking that if I were to give 100% to any beach I personally know this would be it. But the difficulty in getting down to it must knock off a point or two. (Rating: 98%).
Apart from swimming around the rock, there were other activities which correspondents say they have enjoyed: Sitting nude on the rock in the sun, with your feet in the water / Jumping from the 6m high surrounding cliffs into the water, by young textile locals in the afternoon (NB the Captain does NOT recommend trying this yourself).
A report from 1998 described the smaller Micro Amoudi beach as nice, but sometimes textile. Various reports suggest that the first visitors of the day determine its textile or nude character; equally, however, once somebody strips others seem quick to follow. The site is well protected and has a real "naturist community" effect.
Stronger swimmers will normally have no difficulty in swimming between the two coves. One of my contributors even describes walking back by the road to descend to the smaller beach naked and on bare feet - the Captain would not recommend that, though; the route is rocky and stony.
One day in June 2005 there were no less than 18 people who had dressed up to come here, and only 2 upholding naturism - that did feel rather crowded, and in the wrong sort of way, but was fortunately an exception. The larger beach was much to be preferred that day.
The Captain has received a number of similar reports suggesting a proportion of textiles in this idyllic little cove, but it is quite clearly still very much a place for nudists.
During most of the 2009 season the place was occupied mostly by textiles.
One recent contributor has found an "underwater door" on the right hand side, connecting to the larger beach, which he says was easy to swim through. The Captain does NOT recommend this unless you are a very confident and strong swimmer - we do not want to lose any naturists this way!
reports since 2009
However, a word of warning. The pictures here suggest a picture of calmness and tranquillity, and indeed that is a true image of the state of these beaches during much of of the summer. But occasionally the sea does become lively. The sea bed slopes quite quickly and there are rocks to the sides. It is said that in certain conditions there is an undertow. In rough conditions great care should be taken while swimming, and if you have children with you the much shallower beach at Plakias might be a safer bet at such times.
---
Damnoni (Δαμνονι)
From the east of Plakias beach it is possible to follow a path to Damnoni (about half an hour's walk) - the path starts behind the Plakias Bay hotel (this is the roughest part) and is waymarked by red spots and arrows on stones.
An easier access by car is to take the road from Plakias to Lefkogia and take a small road (at GPS waypoint N35 10' 54.6" E24 25' 03.6") with signs to the "Hapimag" time sharing complex. The Damnoni beach itself is at GPS coordinates N35 10' 29.4" E24 24' 51.5".
Damnoni Beach is a large stretch of sand with two tavernas and a cantina. The middle of Damnoni beach is now dominated by "Hapimag" a large timeshare complex aimed at German tourists (a developments which is signposted for several miles around), and the Damnoni Beach Hotel behind it. There is a large area of sun umbrellas and parasols. The derelict "Minoan Prince Hotel" stands over the eastern end. The Captain remembers that in 1991 the eastern end was naturist. Reports from September 1997 and 1998 said that there were no naturists. However when the Captain last visited in September 2000 there was a small enclave of naturists on sunbeds with parasols at the far eastern end. Don't count on it, though; and anyway Mikro Amoudi is only a couple of minutes' walk round the headland from here.
For years The Captain has kept this entry alive because mainly of some pleasant memories of blissful nude relaxation on this beach in the mid-1990s - before the advent of beach umbrellas across the whole length of the beach. Some isolated nudity could be found at the eastern end. But as of 2005 contributors are asking why anyone would want to come here now, unless to park a car and walk the 300 metres to Mikro Amoudi.
July 2017: Beautiful, but totally taken over by textile sunbathers and water sports, etc. - no chance of going nude here anymore.
---
Kalypso
The Captain still receives occasional enquiries about Kalypso. Unfortunately the sad news is that Kalypso is no longer available for naturists. It is difficult to imagine that this relatively old-fashioned and isolated hotel without a beach is that attractive if it were not for its rather unique status as a nudist destination. There are many advertisements around Plakias for Kalypso Rock's [sic] diving school.
---
Plakias (Πλακιας)
Captain's rating: 97%
See Plakias Bay on Google Maps
Plakias has a very friendly community, and repeated visits have led the Captain to develop a real affection for the place and its people. And it is surrounded by wonderful scenery and some of the best beaches the Captain has had the pleasure to visit are in the vicinity. It's well signposted and has good access roads.
The Plakias Bay beach (GPS N35 10.877 E24 24.064) is a huge stretch of golden sand. The south east end is fine sand, with umbrellas and sunbeds, and primarily nude for the last section (three or four hundred metres) which is largely screened from the road by dunes. The entry to the sea is shallow for some way out, which may make it more suitable for children than some of the other naturist beaches in the area. In some places at the water's edge there is flat rock where you might expect sand; it is easy enough to walk on, but mind you don't stub your toes.
There are showers on the beach, although sometimes reduced to a trickle. It is also quite busy. Very pleasant and well recommended. This is one of my favourite nudist beaches in the whole of Greece (rating 97%).
The naturist section is often by far the most crowded part of the beach, with very few dissenters among the naked ones. It is one of the best beaches in terms of feeling comfortable with fellow sunbathers whilst being so close to the town and road.
The setting is perfect. Mountains on three sides, a small fertile valley, and a beach about two miles long. The headland to the west is shaped like the head of a sleeping dragon (watch him breathe fire at sunset).
The east end of the beach (hidden from the road by a few dunes) is mostly nude, with a simple and friendly atmosphere. From a hotel in Plakias village it takes 15—20 minutes to walk to this end.
Plakias beach is a bit of a magnet for the Captain, I'm afraid; I keep coming back, most recently in September 2006 when it was just as perfect as ever.
The doughnut man calls every day, yum, yum! He calls: "Extra vitamina! Extra! A doughnut a day keeps the doctor away …". He wasn't spotted during a 2-week visit May 2010, but a different gent selling fruit salads was… sign of the health-conscious times?
Beach umbrellas extend into the nudist area and are used by nudists. Enough room in front and beyond them for those not wanting one. 90% nudist in this area. A beautiful beach in a beautiful bay.
Cleanliness has been an issue in the past, but the guy running the sun umbrellas is obsessive about picking up litter and the beach is now beautifully clean. Regulars do their bit to help keep it that way.
The sunbeds cost €5 per day (for an umbrella + a pair of beds - singles pay €3), payable to the conscientious attendant who replaced the delightfully cheerful Freddie around 2013. Each bed pair now has an earthenware pot for users' rubbish.
There are now reported to be beach bars in both the non-naturist and the naturist sections.
One report found that seaweed and flies were an unpleasant nuisance, and another described the water as rather murky. In spite of this, overall impressions are still favourable, and two reports particularly commend it for young families.
More information about Plakias can be found on Ostraco's Plakias pages. It includes worrying ideas about huge new developments and extending building in Plakias along the beach road (see below). This could all too easily ruin everything.
reports
August The nudist part is at the end, so we have it all for ourselves. Very relaxed, all ages. Nice showers.
recommended accommodation
Barefooters recommend:
the hotel on the rise behind the eastern end of the beach - Plakias Bay Hotel
Paligremnos Apartments, right opposite the nudist beach
the apartments at Creta Spirit, which is about half way between Plakias town and Souda so it's not easily walkable. On the other hand, the location is superb and Theo & Maria are good hosts (2010 & 2013)
the apartments at Studios Stella, in Plakias town and 100-200m back from the main street (2010)
Anthos Studios, owned by the Alianthos group. Reasonably priced, comfortable and the staff were excellent. It's up the hill out of Plakias towards Lefkogia and on the right. About 20 mins walk. Nice small pool, nice garden (2012)
July 2010: A forum member posted www.plakias-filoxenia.gr as "A list of (almost all) apartments in Plakias".
walking guides
Some contributors recommend Lance Chilton's brochures outlining walks in the Plakias area. They're very good if you want to get to the beaches on foot. There are 10 walks in the Plakias area, 7 more challenging walks in Plakias. It can be obtained in the supermarket next to the bus stop in Plakias.
tourism day
The local authority has taken to arranging a free festival for the benefit of the tourists on "Tourism day" at the end of September, with food and local wine, music, singing and dancing. Thank you to Finikas authority and all involved for this generous and enjoyable gesture.
bus service
There's a bus service between Plakias & Rethymnon (the nearest big town, on the north coast):
depart Rethymnon:

06.15, 09.00, 11.00, 14.30, 18.00 weekdays
09.00, 11.00, 14.30, 18.00 - - - - Sat & Sun

depart Plakias:

07.00, 10.00, 12.00, 15.15, 19.00 weekdays
10.00, 12.00, 15.15, 19.00 - - - - Sat & Sun

fare: €4? each way
(Summer 2016 timetable - more at cretetravel.com.)
nearby property development
But the future of this destination, for many years a great attraction to Crete-bound naturists and possessing what is surely one of Europe's best naturist beaches, is uncertain. Plans are in hand to build a huge development of studios and apartments on the land between the main part of the town and the naturist beach (in fact the development seems to be just west of the Drimiskianos studios). Although the plans do not suggest that this resort will extend as far as the naturist beach itself, there must be at least some risk that the arrival of large numbers of new visitors will have a negative effect. Work has started on building the foundations and the developers apparently expected that the first phase will be complete in 2010. But then came the global recession and work stopped because the firm went bust.
In May 2010 there was a bit of building work going on. The first phase - looks like about a dozen apartments - is built but not finished or fitted out; none seemed close to completion. If this development is built in full it will clearly have an impact, but the beach is so large that the extra people won't necessarily spell doom.
The development is described at the Plakias Resorts website, where the description of the beach includes the phrase "…[other areas] are secluded and have been left untouched for naturists."
Plakias Resorts open in June 2012. Looks quite a small and attractive development. It's nearer to the most easterly clothed area of beach than the 'far end' and is about 150 metres to the west of Paligremnos. Another development about 300 metres nearer to the town is half completed with no sign of any work being done or having been done recently. Certainly at the time we were there, the beach could quite easily absorb the extra tourists without disturbing the far end.
---
Souda (Σουδα)
There are two tavernas here. Although a part of the big sweep of Plakias Bay the western end called Souda Bay is a definitely separate section. There is now a good road from Plakias, about 4km from the centre of Plakias to the tavernas at the Western end of Souda. It is possible to walk (about 45 mins) but this beach has the distinct advantage of being served by tour boats.
The beach is excellent - a mix of sand and shingle - and clean, with very very clear water (blue flag!). Umbrella + 2 sunbeds cost €5 per day (2010). It is partly shaded by the cliff at the western end during the late afternoon. It is well sheltered, and makes a good alternative to Plakias & Mikro Amoudi on windy days.
The naturist end is the east (left facing the sea). How many naturists you will find seems to depend on who gets there first: if it's mainly textiles then not many, if mainly naturists then 70-80%. There's an overall "do your own thing" feel. (There was a report in 2000 of a sole male naturist being angrily abused by locals; obviously hard to know what that can have been about, but nothing like it has been reported since.)
The nude part is visible from the road, though some reports say this makes little difference. Some contributors find this beach uninspiring after visiting those at Mikro Amoudi.
reports
Police raid in June meant that that July/August were not nudist. However, the sunbed guy at the eastern (nudist) end told me that there had been an agreement and Souda is now OFFICIALLY NUDIST, and Plakias beach as well.